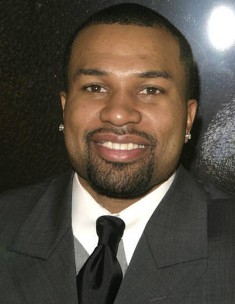 BIO
Full Name: Derek Lamar Fisher
Nick Names: D-Fish, The Bull Dog, D, Mr. Class, The Rock, The Mop, The Silent Assasin.
Position: Point Guard
D.O.B August 9th 1974
Height: 6'1
*He was a communications major at Arkansas-Little Rock
*He would like to run a business after his basketball career.
*He is active in several organizations like the American Cancer Society, Big Brother/Sisters & Read To Achieve. And has started his own foundation "The Fisher Foundation".
*Went to Parkview High School.
*He likes to fish, listen to music (rap & hip hop) & traveling.
He says grilled chicken & chicken parmesan is his favorite food to eat..
Some of the info above was taken from
lakers.com
player info.
Derek & Wife Candace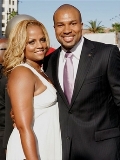 A Few Other Facts
*Derek is left handed
*Has a brother, Duane, and a sister, DeAndra
*He married in 2006 has 4 kids including twins (boy & girl)
*Derek's Favorite movie is "The Firm"
*Favorite TV Show: "The Cosby Show"
*Fav. Artist: Miles Davis
*Derek has a tattoo on his inner right forearm. It is his first tattoo and it's of a couple of Chinese characters that mean: "To Be Faithful In Heart, Mind and Spirit"
*Derek is co-owner of the AMAGEE clothing line which has been put on hold for it's release.
"SOUTHERN MADE" is the slogan.
*Derek led his Parkview High School team with a 35-1 mark & a NO. 4 ranking in the country.
(his #4 jersey has been retired)
TV Roles
TV show: "In The House"
Year: 1997
2 Episodes "Men In Black" and "Tito's In The House"
He appeared as himself

TV show: 'Moesha'
Year: 2000
Episode: "Just The Two Of Us".
He played the character of Neeko.

Tv show: '7th Heaven'
Year: 2000
Episode: "Hoop Dreams"
Derek appeared as himself.

Tv show: "The Jamie Fox Show"
Year: 2000
Episode: "If The Shoe Fits"
He appeared as himself.

Tv show: EVE
Year: 2003